It's Fridaaaaay ya'll! Yes! That day of the week when you let your hair down, unsnap your business casual pants, slide off the "sensible" pump that still hurts your feet (I mean the oxymoron right? Can ANY pump really be sensible?) and slide into the weekend like: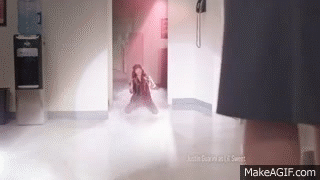 I am officially one whole week into my recovery. I have been resting like crazy!And though I'm suffering a bit from cabin fever; this rest is well deserved.
While I was chit chatting with our manny (man-nannny cause yea we've got one of those), I asked him what he thought today's Fresh Friday theme should be. It didn't take him too long to suggest boots. And being that I'm not one who likes to think too hard these days, I ran with it.
Boots are the best part of fall without a doubt. That and cardigans, leather jackets, scarves- ok so maybe boots are one of a few of my favorite things.
(If you didn't know the next logical step was going to be a Sound of Music gif you obviously do not know me well. Do your research!)
So without further ado, I give you my 3 boot looks:
Ok ladies, what boot look could you see yourself rocking?